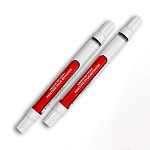 Applying touch-up paint to your auto is a major undertaking. Although you might be trying to hide just a few slight blemishes, simple mistakes could have disastrous results. If you aren't careful, you may leave your vehicle looking far worse than it did before you started. That's why Bob Valenti Volkswagen of Mystic is sharing a few quick tips to help Mystic, CT locals get the best possible outcomes.
Clean the Treatment Area First
Never try to apply paint over any surface that's greasy or debris-covered. Instead, use a soft cloth and a warm soapy solution to get rid of all surface dirt and grime. Make sure that the area is fully dry and free of any lint or soapy residues when you're done.
Don't Try to Cover Damages in a Single Pass
Applying paint to areas in need of a touch-up is a surprisingly meticulous job. To do it right, you'll need to apply several ultra-fine layers of your chosen color. When doing so, make sure that each layer dries completely before adding more. Finish the job by sanding any raised edges smooth and applying a glossy top coat.