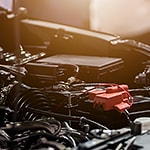 Engine overheating is one of the most common problems that may affect your vehicle. This may happen in any season. Whether it is in hot summer or the cold winter, chances are that your engine may overheat if it is not checked regularly. Therefore, it is important to keep checking your engine to ensure that the cooling system is working properly.
Some of the common reasons for your engine to overheat include:
Leakages in the Cooling System
The most common reason for engine overheating is a leak in the cooling system. This can be due to a loosely fitted radiator, water pump, thermostat cover, heater core, head gasket, or freeze plug. You should check your vehicle regularly for leakages. A tiny leak can soon turn into a costly repair at our service center here at Bob Valenti Volkswagen of Mystic in Mystic, CT.
Concentration of the Coolant
It is critical that you use the right coolant in your vehicle. Additionally, you should ensure you use the right ratios of coolant and water. Regular checks should be done to ensure adequate cooling is delivered.