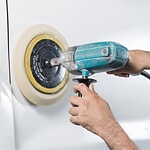 Washing your car regularly is obviously important, but do you follow it up with waxing? This step is equally important for keeping your car looking good in Mystic, CT. At Bob Valenti Volkswagen of Mystic, we are here to explain what car wax is, how you use it, and why it is beneficial.
Car wax is essentially just wax, although it can be made from different materials. You can find natural waxes, as well as some that are completely synthetic. As for how they are applied, you can buy both liquid and paste waxes. There are also convenient spray-on options on the market now.
When applied to your paint, the wax acts as a protective layer. It also helps to fill in minor scratches. Of course, one of the main reasons that people take the time to wax their vehicle is to make it look shiny and new again.