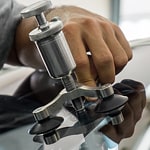 Our Mystic, CT Bob Valenti Volkswagen of Mystic service department's windshield chip repair isn't that much different from DIY repair kits sold over the counter. However, we use higher quality materials in the hands of seasoned, expert techs. Plus, having us perform the repair may cost you nothing, since many auto insurance plans cover windshield chip repair. Here's what it entails.
Windshield Chip Repair 101
We can definitely repair your chipped windshield if:
There are less than three chips in your windshield
Each chip is less than 6 inches wide or long
The chip does not obstruct a camera or a sensor
How We Repair Windshield Chips
We inject a special resin into the chip. Once the resin cures, we polish the cured area to ensure the evenest surface area and visibility. The resin is transparent, of course. Once cured and polished, it becomes indistinguishable from the surrounding windshield, essentially fading from existence. No one will ever even know you had a chipped windshield. The entire process typically takes less than 30 minutes, so in less than a half-hour, you can be back on the road in Groton CT, on your merry way.